Newtec Knowledge CenterWarranty >>
Warranty
Thank you for choosing Newtec Windows & Doors Incorporated ("Newtec") products. Newtec is pleased to offer our customers the convenience of Lifetime Limited Warranty for your newly purchased Newtec products such as windows and doors ("Products"). Newtec guarantees the Original Purchaser of Newtec Products that Newtec will repair or replace any such Products that are defective in materials or workmanship. If repair is not commercially practical or cannot timely be made, then Newtec will, at our option, repair, replace or refund the purchase price of the products or component part. Newtec reserves the right to require return of the defective part(s). All products must be paid in full to qualify.
FRAME AND SASHES
Frames and sashes of the windows and doors are LIFETIME warranted against cracking, peeling, flaking, blistering, rotting or corrosion to the Original Purchaser for a period of twenty (20) years from the date of purchase ("Start Date").
GLASS
The sealed insulated glass units are warranted from Start Date against hermetic seal failure for twenty (20) years in a prorated schedule that is full coverage within five (5) years, seventy-five percent from sixth (6th) to tenth (10th) year, fifty percent from eleventh (11th) to fifteenth (15th) year and twenty-five percent from sixteenth (16th) to twentieth (20th) year.
HARDWARE AND PARTS
Newtec will warrant hardware and other mechanical parts for a period of five (5) years and in highly corrosive environments of one (1) year from Start Date of the windows and doors as new construction or as replacements.
EXCLUSIONS FROM COVERAGE
This Warranty described above cover only manufacturing defects and do not include damage or defects caused by, or as the result of neglect, misuse, abuse, occurrence of accidents, vandalism, improper handling and/or improper storage, improper installation or use of the product or products by the Original Purchaser, his agents, assigns or invitees, any modification or alterations including but not limited to customer-applied finishes, the use of applied tints or films, acts of war, terrorism or rioting, acts of nature (e.g. flood, fire, earthquake, tornado and hurricane), exposure of the product to excessive heat and/or cold beyond naturally occurring conditions, stress caused by building defects, movement or settlement, or structural failures of walls or foundations or failure to properly care for and maintain the Newtec Products such as the application of harmful cleaning solutions or products including, but not limited to, acetone, petroleum products or abrasive compounds. Normal wear and tear including discoloration caused by normal aging or natural weathering of exterior finishes or hardware component finishes and broken glass are not defects thus are not covered by this Warranty. Condensation or frost on exposed surface is not a defect but may be the result of excessive humidity within the property and a difference between the interior and exterior temperatures so is not covered. Exclusions also include glass breakage, glass scratches, minor blemishes in the glass that do not significantly impair the structure or vision through the glass including glass curvature, the very gradual, natural migration of noble gas infill used in insulated glass units, torn or ripped screens for any cause whatsoever, loss of functionality of hardware, rusting or corrosion of non-vinyl products or components in highly corrosive environments such as close proximity to coastal areas, improper removal of any permanent warning or identification labels from the product(s), and any inappropriate or unintended use or uses of the product including, but not limited to, any commercial use. It does not apply to any product which is manufactured beyond standard production limitation at customer's request, or which incorporate non-standard material or components installed pursuant to customer's request, or to accessories or parts not supplied by Newtec.
LIMITATIONS ON REMEDIES
In no event will Newtec be liable for incidental, consequential or special damages (other than labor to repair or replace Products) including, but not limited to, damage or loss of other property or equipment, whether based on breach of express or implied warranty, breach of contract, negligence, strict liability or any other legal theory. Some states do not allow the exclusion or limitation of incidental or consequential damages, so the above limitation or exclusion may not apply to you. This Warranty covers materials only and Newtec does not assume any expense or responsibility involved with the removal and/or reinstallation of any replacement parts. Service charges may occur for non-warranty site surveys. Any discontinued model parts or components may be replaced with equivalent parts at the sole discretion of Newtec, and Newtec is not responsible for any color variation.
TRANSFERABILITY
This Warranty starts on the Start Date as new construction or the installation of Newtec windows or doors in the home as replacements, and remains effective as long as the Original Purchaser owns and resides in, or occupies the home. This Warranty extends to the Original Purchaser of Newtec Products, and may be transferable. For quality assurance purposes, all Products should be inspected by the Original Purchaser prior to, or at the time of installation or upon transfer of title to the Original Purchaser.
STATE REMEDIES
This Warranty gives you specific legal rights, and you may have other rights which vary from state to state. If any parts of this are void or unenforceable in your state, the remaining portions will nonetheless continue in full force and effect.
CONTACT US
All warranty claim forms must be mailed with a copy of purchase receipt within one month to Newtec Windows & Doors Inc., 3159 W. 36th St., Chicago, IL 60632. This Warranty is in lieu of all other guarantees and warranties, expressed or implied. All decisions regarding warranties and claims remain the right of Newtec Windows & Doors Inc. To obtain service under this Warranty, contact us at 773-869-9888 or visit www.newtecwindow.com.
Is It Returnable/Exchangeable?
Because each window/door is made to your specific measurements, all sales are FINAL. 
Newtec Knowledge CenterFrequently Asked Questions >>
What is the Lead Time for Windows and Doors?
What is the lead time for windows and doors?
Newtec Windows and Doors manufacturers everything in our Chicago facility. We take pride in our short lead time. Every product is custom made to meet your needs and specified measurements. Each product has a different lead time, our standard lead time are as follows: 3-5 business days for vinyl windows, 10 business days for aluminum windows 10 business days, 10-15 business days for doors. We'll provide the completion date when you place the order.
Where Are You Located?
Where are you located?
Newtec Windows and Doors is located just south on Highway 55. We're right around the corner once you take the Kenzie exit.

Our address is

3159 W 36th Street
Chicago, IL 60632

Feel free to give us a call for more information 773.869.9888
What Are Your Office Hours?
Our Office Hours are As Follow: 
Newtec Windows and Doors is open 6 days a week. Monday through Friday from 7:30AM to 4:30PM and Saturday from 7:30AM to 12:00PM. 
What is The Price of Your Window?
Prices are as follows:
Every single window is customized, we don't have a standard rate. Please provide your window specifications in our request a quote section, and we'll get back to you on your total cost. We take pride in quality as well as affordability. You can't beat the Newtec price. Find out for yourself!
What Kind of Windows Do You Have?
We sell all types vinyl windows, aluminum windows, glass blocks as well as doors. Please find our full product list here: Product List
Do You Sell To The Public?
Yes, we do sell to the general public. In addition to general contractors, replacement contractors and architects, we sell to homeowners and customers that walk-in to our showroom as well. Essentially we sell to anyone who wants to work with us and purchase windows and doors.
What Kind of Products Do You Offer Homeowners?
Our Homeowner Products
Newtec Windows & Doors offers a wide range of windows, doors and accessories for homeowners. Vinyl products are the most popular amongst homeowners. Below you will find our most popular products.

You can learn more about our product offerings on our residential page. For more information, check out our full product list here.
Do You Provide Window Installation?
Yes We Do With Limitation
We do offer window and door installation. Newtec Windows and Doors manufacturer is a full service window and door manufacturer for residential and commercial needs. Additionally we offer window and door installation for commercial projects. Please note that Newtec only offers installation services for projects with 10+ windows or doors.
What Services Do You Offer?
Our Homeowner Products
Newtec Windows and Doors is a Chicago windows and doors manufacturer. In addition to windows and doors, we sell glass blocks. As for services, we offer commercial window and door installations. Interested in working with us, we would love to hear from you. Give us a call today!
Do You Provide Window Installation?
Yes There Are Some Category and Order Requirments
We do offer window and door installation. Newtec Windows and Doors manufacturer is a full service window and door manufacturer for residential and commercial needs. Additionally we offer window and door installation for commercial projects. Please note that Newtec only offers installation services for projects with 10+ windows or doors.
Can I Get A Quote?
Yes: Request a Quote is Available
Yes, of course! You can get a quote once you we receive all the necessary information on your window and door needs. Click here to fill out our Request a Quote From, it only takes a few minutes, and a representative from Newtec Windows and Doors will reach out to you shortly.
What's The Material For My Window?
Materials Vary, But The Focus is On Quality
We take pride in our quality products. Not only are they made in the US, we source the best material to ensure that the windows and doors you purchase from us last you a long time. Newtec Windows and Doors is your solution for superior sourced materials for your window and door products.
What's The Difference Between Vinyl and Aluminum Windows?
Materials Vary, But The Focus is On Quality
There are many things to consider when shopping for windows. One of the most important decisions you will make is whether you should choose between aluminum or vinyl. Each option has pros and cons, but the final decision is yours to make.

Aluminum windows come with a thinner frame, which provides your home with a modern style. With vinyl windows, the majority of the window is made up of glass. Vinyl window frames are typically plainer and thicker than aluminum windows because they are made from polyvinyl chloride (PVC).

Many individuals find that aluminum windows are more attractive because the frame is thinner. However, vinyl windows allow the ability to paint the frame, which is an option that many homeowners like. From an energy efficiency perspective, vinyl windows are typically more cost-saving due to the nature of aluminum material that are heat conductors, acting as heat conductors. That being said, windows are on the market today are relatively energy-efficient and provide the cost savings you'd expect when investing in new windows. Another factor you should consider is noise cancellation. Aluminum windows are much better at stopping noise than vinyl windows. In fact, vinyl windows should not be chose for noise insulation due to less mass. Aluminum windows are a better choice for homeowners who live near busy streets or loud areas such as parks and need some noise reduction.

Newtec Windows and Doors use the highest quality materials for both vinyl and aluminum windows that are customized to meet your needs. All our window options will allow you to live in comfort and style, while effortlessly reducing your energy bill.
What's the Difference Between Clear Insulated Glass and Low E-argon Glass?
From an energy efficiency perspective, Low-E Argon glass is worth the investment.

Clear Insulated Glass is a double-pane glass. The process is adhering two pieces of glass together to create a window. There is a pocket of airspace in between the two pieces of glass, which is dried so that the air space is airtight to eliminate the possibility of condensation and to maximize the insulation properties.
Low-E works to reflect the ultraviolet rays, reject infrared and keep your home cooler in a warmer climate. Argon Gas is an injected gas between the panes of glass to help prevent cool air from penetrating in the winter. Argon gas is typically warranted in a colder climate. When combined together, Low-E and Argon gas makes a formidable team to combat both cold and warm weather. Low-E Argon Glass means that during colder seasons, it allows the sun's rays to penetrate into the home, letting in heat and light while limiting the heat to escape. In the warmer summer months, it limits the amount of seasonal heat from entering, while allowing the light in.
If I'm a Homeowner, What is My Best Choice/Option?
Options Vary
Newtec Windows & Doors offers a wide range of windows, doors and accessories for homeowners. We typically recommend Vinyl products for homeowners. Reason being that they are durable for single family homes. Of course, we offer a wide range of aluminum products as well. If you work with an architect, I'd recommend working with him/her to complete the design and the architect of your home.Vinyl products are the most popular amongst homeowners. See below for some of our most popular residential products.

You can learn more about our product offerings on our residential page. For more information, check out our full product list here.
How Can I Keep The Top Sash In Place?
Often times the top sash is not pushed completely in place to allow the retaining lip to engage the weather-stripping and hold it in place. Make sure the sash is completely raised to eliminate potential drifting. In addition, because double-hung windows are made to provide remarkably easy fingertip operation, it is possible that the sashes will sometimes drop slightly.

If you want to attempt to reduce the sash drift, use a flat-head screwdriver to turn the built-in frame adjusters (located at the mid-height of the jamb). Turn just a 1/4 turn at a time until the sash stays in position. Do not adjust the Phillips-head screws in the jambs.
The Top Sash on My Double-Hung Window Just Falls Down When It is Not Locked. How Can I Fix This Problem?
Newtec windows employ one of the finest and most stable window with constant force balancing. In rare cases, the connecting pivot bar can become dislodged from the balance shoe. This small bar—located on the bottom corners of the sash—must slide into the white nylon housing with the black cam located in the side of the window's frame. If it is not connected to the cam, use a Phillip s screwdriver to loosen the screw, and then retract the pivot bar. Align the bar with the black cam, insert it and tighten the pivot bar screw. 
I Have Double-Hung Windows With Full Screens. How Do I Remove The Screens From The Windows?
Newtec engineers have designed these screens to fit perfectly. Screen frames feature heavy extruded walls, an integral lift rail, and a rigid horizontal spreader bar that's securely anchored to the screen frame—resulting in extremely high-strength properties.
To remove the screen, grasp the lift rail at the bottom and the spreader bar in the center. Simply push to the left side and swing the screen outward. Please be careful not to force the screen out—excessive force will bend the screen.
Why is There Moisture in My Window?
Condensation will occur whenever the window surface is cool enough to allow moisture in the air to condense on it, which is why some condensation can be expected in the winter – condensation should be controlled as much as possible since it can damage the window's components. It is also important to understand that too little humidity is bad for your house. Moisture on the inside of a window pane, and it is a sign that airborne water is trapped in the house due to poor air circulation and exchange.
Steps to Reduce Excessive Humidity?
Moisture can be very tricky. If a certain room in your home has a specific spot that's moist, you're probably dealing with a leak. But if it's a whole room that's affected, or even just an entire wall, then you're most likely looking at a humidity problem. Below are a few things we recommend to reduce humidity. 

Install and run exhaust fans in the house

Use a dehumidifier

Ventilate the basement

Clean your AC filters

Contact a professional HVAC technician for ventilation and humidification solutions, such as whole-home humidification. 

Vent gas burners 

Dryer and kitchen range exhaust fans should never be vented to the attic
Window Maintenance Tips & Guide
Window Maintenance Tips & Guide
Newtec strives to provide the closest to maintenance-free products. However, it is still important to take care of your windows and doors to extend its longevity.

Check Regularly
We recommend checking your windows and doors once a year, ideally sometime in the fall. If you hear any screeching sound, it's time to lubricate your moving your moving parts such as hinges and pivots. Check the fit and seal, make sure the caulking is adequate to reduce heating/cooling loss. Clean, vacuum and remove dirt from movable parts such as the sliding shoes, pivot points and track area as often as necessary.
Buying Tips
Whether you are a handyman who can perform very dexterous jobs in and around your house, or are talented in other fields other than a homemaker, you do need windows. Buying the right windows or doors is not an easy job to most people, not even easier than buying the whole house. Just like any other specialized areas, window technology is constantly changing in design and materials, as are new functions and requirements. These essential home components can be hard to understand. Before you commit to invest without regret, you need to read and learn, and consult a professional.
Know your real needs. The aging windows may malfunction, be hard to operate, increase your bills, and decrease temperature efficiency; or you may just want a new look. While energy efficiency and beauty are fundamental, you should be focusing on their strength and integrity because your specific windows are integral parts of your home.
Become an educated customer. Familiar with basic knowledge, the up-to-date technology, and the best available products on market.
Choose products best fit your needs. Our premium-grade vinyl frames and sashes are best choice for energy efficiency, durability, low maintenance and beauty. Aluminum windows and doors have competent efficiency and strong structural performance with attractive prices. Look for the best materials that meet your requirements.
Select energy efficient qualified windows and doors. With continuously rising energy costs, high-performance products will keep your heating and cooling bills lower—and provide a greater level of comfort for your home. Remember you may also claim the tax rebate when you purchase energy efficient products.
Mind the prices. You money is valuable. High price does not guarantee high value. Some companies have very high overhead costs that they wish YOU to pay for them. Do not focus on their luxurious office and plant buildings, but focus on the real quality and service of their products, because you pay and use the products.On the other hand, do not focus only on price. Good price windows are not cheap windows. Usually cheap windows are the most expensive windows that you can buy over time. Take vinyl replacement window, it can last a few months or a lifetime. So you must compare an apple to an apple, not a pear.
Have it at YOUR schedule. Some companies may request you wait for couple of weeks even a month. Or, they choose their convenient time slots instead of yours, sometimes before you need them. The real reasons might be the products/ service unavailability or insufficiency in stock inventory. Newtec fabricates and delivers our product directly to you with guaranteed material stock in inventory.
You deserve the best service. Choose "custom-made" windows and doors that seamlessly fit your house with hassle-free maintenance. Also look at our lifetime limited warranty.
Maintenance Tips
Newtec strives to provide the closest to maintenance-free products. In most cases, our vinyl and aluminum exterior windows can keep themselves clean by a heavy rain. However we still have to take good care of the windows because they are so important and protect us from extreme atmospheric conditions. Just imagine, while we are sitting in the comfortable rooms, the outside temperature can range at least one hundred degrees, and the windows and doors are exposed to direct sunshine, storm rain or snow, frigid wind, and long time dryness or moisture. And many window or door parts are moving and are operated from day to day. Something expected and unexpected include dust, tree branches, footballs and even, grease, footballs and even human tampering. These are reasons we need to care of our windows.
Check regularly
At least once a year, in the fall or before winter, during or after an extreme weather condition such as storm rain. When you hear some screech sound, that is the time to lubricate your moving parts such as hinges and pivots.
Check the fit and seal of all window components. Make sure the caulking over their entire length around doors and windows is adequate to reduce heat/cooling loss. Frames and sashes are subject to changes in size with use and exposure to ultraviolet light, moisture, and temperature extremes. As a result, a gap can form between window components, increasing both air and water infiltration, and the seals can lose flexibility and fail.
Operable windows should be opened all the way then closed completely to see how easy they are to operate. Failed or corroded operators can cause problems operating the units. You may use a small mirror to help examining screws or rivets that are not loose or rusty; safety stoppers, angle strips are in place; friction stays are not bent or loose; sliding tracks are smooth and free of dust and debris. Check all window and door locks for proper operation. Windows that can be opened by breaking the glass and unlocking them are less effective deterrents to criminals. Look for window lock alternatives. Check to make sure drainage or "weep" holes are always clear of dirt and obstructions – both inside and outside the window or door in the bottom of the frame. Composite windows do not have weep holes. Note: If the window is "stacked," there may be weep holes between units.
Clean and wash:
Clean, vacuum and remove dirt from movable parts such as the sliding shoes, pivot points and track area as often as necessary. Clean glass and window or door frame with a mixture of mild dish soap and water. Rinse completely with clean water and wipe dry with a soft cloth to avoid water spots. Avoid washing glass in direct sunlight. Never use abrasive or caustic cleaners. They can cause permanent damage to the frame finish or the glass. Such aggressive organic include solvents or cleansers are chlorine bleach, liquid grease remover, nail polish remover and furniture polish/cleansers. Mild, nonabrasive soaps are usually the safest for most dirt and stain removal, but any cleaner you use should be tested in an inconspicuous area first. Always rinse completely with clear water and wipe dry if possible.
Fix and lubricate:
Tighten loose screws or replace missing or corroded screws and bolts. Periodically lubricate or grease the movable parts, the hinges and pivot points and other hardware components at least once every six months. In salt-air environments, these components require monthly lubrication. After wiping clean, use a silicone spray with a non-petroleum-based propellant on door or sliding window tracks, rollers and locking hardware.
Window Safety Tips
Home should be the safest place in the world. Agree? Yes, but not easy. There are many hidden traps around, including windows. Below are some window safety tips provided by National Safety Council:
Preventing falls out of windows is as important as learning how to use one in an emergency. Unattended children run the greatest risk of falls and injuries, so the best first step is to watch your children as they play. Nothing can substitute for careful supervision.
Windows provide a secondary means of escape from a burning home. Determine your family's emergency escape plan and practice it. Remember that children may have to rely on a window to escape in a fire. Help them learn to safely use a window under these circumstances. When performing spring repairs, take care to make sure that your windows are not painted or nailed shut. You must be able to open them to escape in an emergency. Keep your windows closed and locked when children are around. When opening windows for ventilation, open windows that a child cannot reach. Set and enforce rules about keeping children's play away from windows or patio doors. Falling through the glass can be fatal or cause serious injury. Keep furniture — or anything children can climb —away from windows. Children may use such objects as a climbing aid.
If you have young children in your home and are considering installing window guards or window fall prevention devices, be aware that the window guards you install must have a release mechanism so that they can be opened for escape in a fire emergency. Consult your local fire department or building code official to determine proper window guard placement.
Some homes may have window guards, security bars, grilles or grates already covering their windows. Those windows are useless in an emergency if the devices on them do not have a functioning release mechanism. Time is critical when escaping a fire.
Do not install window unit air conditioners in windows that may be needed for escape or rescue in an emergency. The air conditioning unit could block or impede escape through the window. Always be sure that you have at least one window in each sleeping and living area that meets escape and rescue requirements.
The degree of injury sustained from a window fall can be affected by the surface on which the victim falls. Shrubs and soft edging like wood chips or grass beneath windows may lessen the impact if a fall does occur.
Installation Guide
Remember:
Window and door installation needs professional knowledge and savvy skills. There are also warranty and liability issues involved. If you are not completely confident to DIY, contact us at 773-869-9888. We will be happy to help you.
Tools: Broad wood chisel; hammer; utility knife; Phillips-head screwdriver; flat headed screwdriver; level; safety glasses; caulk gun ; professional grade exterior paintable caulk; drill; proper size drill bit; pliers; paint scraper ; Goggles; Gloves, Face Masks.
Steps
Before you remove your old windows, measure the window opening to ensure the new windows fit the openings.
From the interior wall side, set window (be sure sashes are still locked) into openings and butt the exterior window frame up against the opening blind stops.
Check the window for plumb and level. Add shims where necessary. It is highly recommended that shims be placed at the middle of the frame and at the middle of the top and bottom sashes. Also, install shims behind screw holes to prevent screw tightening from warping frame.
Locate the pre-drilled screw holes on the sides of window frame. For Welded series, holes will be located at the top and bottom of both frames sides (oversize windows may also have pre-drilled holes in frame top). For Sliders, Casement windows and oversize windows, remove factory installed screw caps from top and sides.
Secure window to opening by installing screws (supplied) through the screw holes into the frame opening. Re-install screw caps.
If installing a head expander, raise expander until it is flush with top of opening. Drill pilot holes and secure to frame with small screws al lowest part of expander.
Replace inside stop (moldings) if necessary.
Install insulation around the entire window between the frame and opening. Be careful, installing too much insulation on top and bottom may cause window to bow.
CAUTION
Insect screens are not for preventing children from falling out or protection from flying objects. Insect screens do not contribute to security. Safety is always the first priority.
Newtec Knowledge CenterGlossary >>
Windows
Window: A framework of vinyl, metal or wood that contains a glass windowpane and is built into a wall or roof to admit light or air.
Awning Window: A window that has a single sash in which the bottom of the sash swings outward. Awnings are typically wider than they are tall.
Bay Window: A composite of three windows usually made up of a large center unit and two flanking units, typically they are 30 or 45 degree angles to the wall. A bay window refers to the angle of departure from the plane of a wall.
Bow Window: A composite of four or more window units in a radial formation, typically at a 12 or 14 degree angle to the wall.
Casement window: A window unit in which the single sash is either fixed or opens outward to the left or right. Casements are generally taller than they are wide.
Clerestory window: A vertical window set in a roof structure or high in a wall, used for daylighting
Dormer, dormer window: A gabled extension built out from a sloping roof to accommodate a vertical window
Double glazing: A window with two panes of glass and a space between them; reduces heat and noise transmission through the window
Double-hung window: A window unit having two operable sashes that slide up and down in the frame. A counterbalance mechanism usually holds the sash open or closed.
Emergency exit window / egress window: A window big enough and low enough so that occupants can escape through the opening in an emergency, such as a fire.
Fanlight: A semicircular window over a door or window; usually has sash bars like the ribs of a fan
Fixed window: A window that cannot be opened, whose function is limited to allowing light to enter or being aesthetically placed. Clerestory windows are often fixed. Transom windows may be fixed or operable.
French window: Also known as a French door is really a type of door, but one which has one or more panes of glass set into the whole length of the door, meaning it also functions as a window.
Hopper Window: A hinged window unit in which the top of the sash swings inward.
Jalousie window: Also known as a louvered window, this window is comprised of parallel slats of glass or acrylic that open and close like a Venetian blind, usually using a crank or a lever. A jalousie door is a door with a jalousie window.
Lancet window: A narrow window having a lancet arch and without tracery
Oeil de boeuf: A circular or oval window; 17th or 18th century French architecture
Oriel window: A window with many panels, usually a form of bay window most often seen in the typical Tudor-style house and monasteries. An oriel window projects from the wall and does not extend to the ground. Oriel windows originated as a form of porch. They are often supported by brackets or corbels. Buildings in the Gothic Revival style often have oriel windows.
Picture Window: A large, fixed window framed so that it is usually, but not always, longer horizontally than vertically to provide a panoramic view.
Pivoting window: A window that opens by pivoting either horizontally or vertically
Roof Lantern or Cupola: A roof lantern is a multi-paned glass structure, resembling a small building, built on a roof for day or moon light. Sometimes includes an additional clerestory.
Roof Window: A sloped window used for daylighting, built into a roof structure that is within reach. Rose window, rosette: Circular window filled with tracery
Sash window: A window with (usually two) sashes that slide vertically to let in air
Single-hung window: A double-hung type of window in which the top sash is fixed or inoperable.
Skylight: A flat or sloped window used for daylighting, built into a roof structure that is out of reach.
Sliding Window, slider: A window that opens by sliding horizontally.
Stained glass window: A window composed of pieces of colored glass, transparent or opaque, frequently portraying persons or scenes. Typically the glass in these windows is separated by lead glazing bars. Stained glass windows were popular in Victorian houses and some Wrightian houses, and are especially common in churches.
Storefront: The front side of a store facing the street; usually contains display windows to display merchandise for sale in the store. Storefront also refers to these display windows. Also called shop front, shop window, or show window
Storm sash, storm window: A window outside an ordinary window to protect against severe weather or winter
Thermal window: Thermal, or Diocletian, windows are large semicircular windows (or niches) which are usually divided into three lights (window compartments) by two vertical mullions. The central compartment is often wider than the two side lights on either side of it.
Tilt and slide: A window (more usually a door-sized window) where the sash tilts inwards at the top and then slides horizontally behind the fixed pane.
Tilt and turn: A window which can either tilt inwards at the top, or can open inwards hinged at the side.
Transom window: A window above a door; if an exterior door the transom window is often fixed, if an interior door it can often open either by hinges at top or bottom, or can rotate about hinges at the middle of its sides. It provided ventilation before forced air heating and cooling.
Common Door Types
Door: A swinging or sliding barrier that will close the entrance to a room or building or vehicle Doorway, Room access, threshold
Double door: Two vertical doors that meet in the middle of the door frame when closed
Exterior door, outside door: A doorway that allows entrance to or exit from a building
Fire door, fire-rated door: A fire-resistant door that can be closed to stop the spread of a fire
French door: A light door with transparent or glazed panels extending the full length
Interior door: A door that closes off rooms within a building
Movable barrier: A barrier that can be moved to allow passage
Revolver, revolving door: A door consisting of four orthogonal partitions that rotate about a central pivot; a door designed to equalize the air pressure in tall buildings
Screen door, screen: A door that consists of a frame holding metallic or plastic netting; used to allow ventilation and to keep insects from entering a building through the open door
Sliding door: A door that opens by sliding instead of swinging
Storm door: An extra outer door for protection against severe weather or winter
Swing door, swinging door: A door that swings on a double hinge; opens in either direction
Terrace door: A glass door which has one leaf fixed and the other leaf hinged to the fixed leaf.
Trap door: A hinged or sliding door in a floor or ceiling
Components
Bracket:
A structure, often in the shape of an inverted "L" or triangle, set flat against a wall to support objects above
Casing, case: The enclosing frame around a door or window opening
Corbel: A piece of architectural member (bracket) jutting out of a wall to carry any superincumbent weight
Doorcase, doorframe: The frame that supports a door
Doorsill, doorstep, threshold: The sill of a door; a horizontal piece of wood or stone that forms the bottom of a doorway and offers support when passing through a doorway
Frame: The combination of head, jambs and sill to form a precise opening in which a window sash or door panel fits.
Framework: A structure supporting or containing something
Glass: A framed sheet of glass within a window or door frame.
Grilles: Any bar that divides window or door glass. Also called a muntin, grid or windowpane divider.
Head: The main horizontal part forming the top of the window or door frame.
Jamb: The main vertical members forming the sides of a window or door frame.
Lintel: A beam extended across the top of the rough opening for a window or door, resting on the jack studs to support the weight of the wall above the unit.
Mullion: A nonstructural vertical strip between the casements or panes of a window (or the panels of a screen)
Pane, pane of glass, window glass: Sheet glass cut in shapes for windows or doors
Sash, window sash: A framework that holds the panes of a window in the window frame
Sill: The main horizontal part forming the bottom of the frame of a window or door.
Spacer: A bar or stripe of material positioning between two panes of glass to prevent them contact with each other and form an insulating space
Vinyl: A synthetic plastic material used for cladding or entire window units.
Window frame: The framework that supports a window
Windowpane, window: A pane of glass in a window; "the ball shattered the window"
Hardware
Bracket:
A structure, often in the shape of an inverted "L" or triangle, set flat against a wall to support objects above
Closer: A door closer is a mechanical device that closes a door after it was opened automatically or by someone.
Handle: A grip attached to an object for using or moving the object
Hinge: A type of bearing that connects two solid objects by allowing a limited angle of rotation between them
Knob: A rounded handle one pulls or twists
Latch: A bar that can be lowered or slid into a groove to fasten a door or window
Lock: A fastener fitted to a door or window to keep it firmly closed
Pivot: A joint permitting only rotating movement
Sash fastener, sash lock, window lock: A lock attached to the sashes of a double hung window that can fix both in the shut position
Stop, stopper: A device used to hold a door or window open or closed, or to prevent a door from opening too widely
Glass Types
Annealed glass:
Glass without internal stresses caused by heat treatment
Clear glass: Common transparent glass
Double-glazing or Double-pane glass: Two panes of glass with a small airspace between to improve the insulating properties to help prevent heat or cold from escaping or entering your home
Float glass: A sheet of glass made by floating molten glass on a bed of molten tin.
Frosted glass: The matte finish on clear glass produced by acid-etching or sandblasting (see Obscure Glass) Glass block, Glass brick, an architectural element used in areas where privacy or visual obscuration is desired while admitting light, such as underground parking garages, washrooms, and municipal swimming baths.
IGU: Insulated Glazing Unit or Insulating Glass Unit, a set of two or more lites of glass spaced apart and hermetically sealed to form a single glazed unit with an air space between each lite.
Laminated Glass: Two or more layers of glass bonded together using heat and pressure, with inner layers of transparent plastic.
Lite: A piece of glass that is cut, prepared and used to create the window or door
Low-E Glass: A clear, low-emissivity coating applied to one side of the glass in our dual-pane windows. This microscopically thin coating filters the sun's energy in the summer and reduces heat loss in the winter, making even energy bills look better.
Obscure Glass: Any textured glass (frosted, etched, fluted, ground, etc.) used for privacy, light diffusion, or decorative effects.
One-way Mirror: A mirror that is reflective on one side and transparent on the other.
Tempered Glass: Glass manufactured through a process of extreme heating and rapid cooling, making and it harder than normal glass.
Tinted Glass: Glass tinting may be done either by adding a chemical to the glass during its creation, or by adding window film either on or between glass sheets after it has been made, to reduce the passage of light or a specific band of radiation. Tinted glass various colors.
Wired Glass: Sheet glass reinforced with wire netting. Also called safety glass
Engergy Management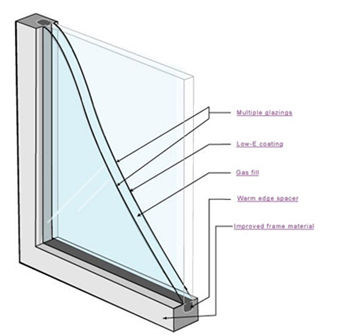 Air Leakage (AL): Indication by an air leakage rating expressed as the equivalent cubic feet of air passing through a square foot of window area (cfm/sq ft). Heat loss and gain occur by infiltration through cracks in the window assembly. The lower the AL, the less air will pass through cracks in the window assembly.
Argon gas: A colorless, odorless, inert gas that fills the otherwise empty space within an insulating glass unit. Condensation Resistance: Measurement of the ability of a product to resist the formation of condensation on the interior surface of that product. The higher the CR rating, the better that product is at resisting condensation formation. While this rating cannot predict condensation, it can provide a credible method of comparing the potential of various products for condensation formation. CR is expressed as a number between 0 and 100.
ENERGY STAR: A joint program of the E.P.A. and D.O.E. (U.S. Environmental Protection Agency and U.S. Department of Energy) helping businesses and individuals protect the environment through the use of high-efficiency products
Envirosealed Windows: Environmentally friendly, energy-efficient windows efficiently insulating homes, greatly reducing energy consumption and costs, and reducing harmful CO2 emissions to produce a greener future.
Green Building: Building that is aimed at energy conservation, saving natural resources, and preserving the environment. The 'Green Movement' brings up many concerns about energy efficiency, as well as company philosophy and practices.
LEED: The Leadership in Energy and Environmental Design green building rating system is a voluntary, consensus-based national standard for developing high-performance, sustainable buildings.
R-value: A measure of thermal resistance (ft2·°F·h/Btu, or K·m2/W in SI Unit System) used in the building and construction industry to express the insulation or a material's resistance to the passage of heat. The higher the R value, the more insulating "power" it has.
SHGC: Solar Heat Gain Coefficient. The fraction of incident solar radiation admitted through a window, both admitted through a window, both directly transmitted, and absorbed and subsequently released inward. SHGC is expressed as a number between 0 and 1. The lower a window's solar heat gain coefficient, the less solar heat it transmits.
U-value or U factor: Overall heat transfer coefficient, the air-to-air thermal transmittance of a fenestration system. A measure of the rate of heat loss from the warm side of the unit to the cold side, the reciprocal of R-value. Units are Btu/(hr·ft2·°F).The lower the U Factor, the greater the insulating value.
Visible Transmittance, VT: an optical property that indicates the amount of visible light transmitted. The NFRC's VT is a whole window rating and includes the impact of the frame which does not transmit any visible light. While VT theoretically varies between 0 and 1, most values are between 0.3 and 0.8. The higher the VT, the more light is transmitted. A high VT is desirable to maximize daylight.
Miscellaneous
AAMA:
Short form of American Architectural Manufacturers Association. AAMA is the source of performance standards, product certification and educational programs for the fenestration industry
Aluminum: A malleable and durable metallic element, bluish silver-white in color.
BBB: Better Business Bureau
Building, edifice: A structure that has a roof and walls and stands more or less permanently in one place.
Clearstory, clerestory: part of an interior wall rising above the adjacent roof with windows admitting light
Condensation: When the air inside an enclosure is warmer than the air outside the enclosure, the moisture vapor in the interior air will condense, creating small water droplets at the intersection of dissimilar materials. Condensation occurs first around the window's edge where the glass insulates least effectively and where surface temperatures are the coldest. If a standard "cold edge" spacer exists and outside temperatures fall to 0F, condensation will form on the glass edge – even in homes with as little as 15 percent relative humidity.
Doorway, room access, door, threshold: The entrance (the space in a wall) through which you enter or leave a room or building; the space that a door can close
Frost point: Temperature within an IG unit at which moisture condenses and/or freezes on the interior glazing surface(s).
NFRC: Short for of The National Fenestration Rating Council, a non-profit organization that administers the only uniform, independent rating and labeling system for the energy performance of windows, doors, skylights, and attachment products
IGCC: The Insulating Glass Certification Council, a non-profit organization jointly established in 1977 by manufacturers, consumers, specifiers, and others concerned with the quality and performance of insulating glass units.
United Inches, U.I.: The sum of width and height or half of the perimeter, in inch, of window opening
Volatile fog: The condensation of chemicals or other impurities within an interior glazing surface(s). Volatile formation is typically due to contaminates left when sealed. These materials become a vapor when exposed to heat and/or UV radiation and condense on the glazing surface to create a permanent haze or "fog."
Wall: An architectural partition with a height and length greater than its thickness; used to divide or enclose an area or to support another structure
Performance Grades
R: Residential
LC: Light Commercial
C: Commercial
HC: Heavy Commercial
AW: Architectural