Residential Vinyl Bow Windows
Elegant, High-Performance Design
The ultimate in design and function, these beautiful windows will grace your home with lasting, trouble-free elegance. Newtec bow windows will enhance your view by bringing the garden into your house. They provide numerous energy-saving features to keep your heating and cooling costs down. Constructed of a proprietary vinyl compound, these windows resist condensation and mold, and provide years of smooth, carefree operation.
Features of the Residential Vinyl Bow Windows
Available with different angles to provide maximum extension of the bow window : – 3 lites: 15, 30 or 45 degree angle – 4 lites: 10, 15 or 30 degree angle – 5 lites: 10, 15 or 22 degree angle – 6 lites: 10, 15 or 18 degree angle
The Solid Wood Mullion features Laminated Lumber construction, providing superior strength and support. The Solid Hardwood Interior adds Beauty to every Bay Window.
Interior casing 2 1/4 ", 3 1/2 " oak or maple colonial styles, or plastic laminated. Head & seat board in 1-1/4" veneer, oak or birch.
Exterior cladding in extruded vinyl, available in white, beige, creamy white and aluminum coil stock.
Pre-fabricated shed or boxed roof, wood, copper or aluminum roof clad kits, in hip or concave style
Fusion-welded, rigid virgin vinyl frames and sashes are strong, durable and weather tight
7/8" insulated glass with Poly-Sulfide sealant gives maximum efficiency and protects against seal failure. Low-E glass and Argon gas is available. Advanced glazing gives clean appearance and prevents water damage
Multi-chambered frame and sash profiles for better thermal performance and structural integrity
Multiple weather stripping prevents drafts and infiltration of moisture and dust
Swing-out sashes for easy cleaning and better ventilation
Multi-point locking system for safety and airtight seal
Corrosion-resistant cranking operator for full range sash movement
Screen included with all operable sashes for fresh air ventilation
Residential Vinyl Bow Windows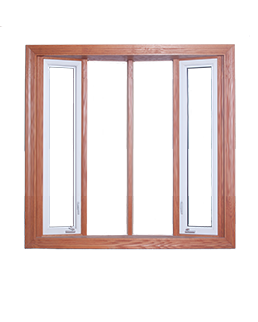 Structural Data & Efficiency Performance
STRUCTURAL TEST DATA:
| Rating(Casement): | PG-50 |
| --- | --- |
| Wind Pressure Load: | 75 PSF |
| Water Penetration Resistance: | 9.0 PSF |
| Air Infiltration at 25mph: | 0.02 CFM |
ENERGY RATING FACTORS:
| Glass: | Low E / Argon |
| --- | --- |
| Thermal Transmittance (U Factor): | 0.27 |
| Solar Heat Gain (SHGC): | 0.24 |
| Visible Light Transmittance (VT): | 0.43 |
| Condensation Resistance Factor: | 64.0 |
Architectural Shapes

Grid Options

Exterior Colors
Custom Colors Available
Simulated Divided Lite (SDL)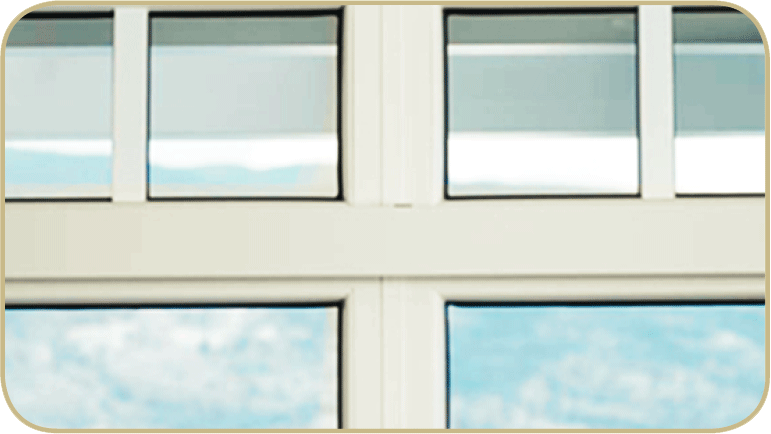 Simulated-Divided-Lites Provide you with an authentic divided glass look. The Grids are permanently adhered to the outside surfaces of the glass. Historical preservation and shadowing make this a desirable feature among restoration remodelers.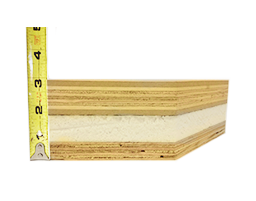 Insulated entire seat
Series 5000 - Our "Standard" Bay & Bow Window System features the identical construction as the Series 2000, designed in a "Standardized Format". The flanker windows and seat projection are pre-set and do not vary with the width of the frame.
Both Series 2000 and 5000 models are available with an Insulated Super Seat. Insulated seats are available in an R 9.0 or R 21 Insulating Value!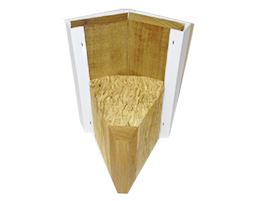 Mullions
The Solid Wood Mullion features Timberstrand Laminated Lumber construction, providing superior strength and support. Custom mullion degrees are available on every whole degree, thus enabling designs to coordinate with even the most difficult job site projection requirements. The Solid Hardwood Interior adds Beauty to every Bay and Bow Window.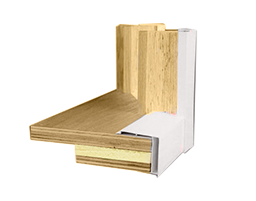 Insulated to Jamb (other companies)
Other companies cut corner by only partially insulating the seat. The image above show an insulation to jamb which is half the actual insulation need to completed the insulating process effective and efficiently.
Glass Packages
| Packages | Thermal Performance | Cost | Cardinal Glass | Glass Unit | Gas Fill | Spacer System |
| --- | --- | --- | --- | --- | --- | --- |
| | | | Double Pane LowE-272 | 7/8″ double pane | Argon | Intercept Warm Edge |
| | | | Double Pane LowE-366 | 7/8″ double pane | Argon | Intercept Warm Edge |
| | | | Triple Pane LowE-272 | 7/8″ double pane | Argon | Intercept Warm Edge |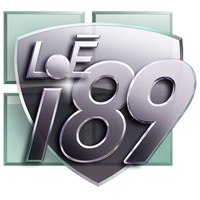 LoĒ-i89 is sputtered onto the indoor lite, the #4 surface, thus reflecting escaping heat back into the room and lowering U-factors. Coupled with our LoĒ² or LoĒ³ glass and argon fill, this double-pane unit delivers performance much better than clear triple-pane – a center of glass U-factor of just 0.20 compared to 0.37 with clear triple-pane.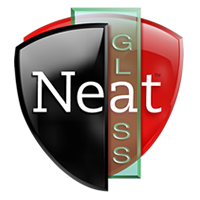 Cardinal introduces Neat
®
naturally clean glass. It harnesses the sun's UV rays to loosen dirt so water can rinse it away, leaving windows virtually spotless. Your windows will stay cleaner longer and will clean easier.

If laminated glass is broken, the vinyl interlayer remains in the frame, with glass fragments adhering to the interlayer. This provides a strong barrier against forced entry and cannot be cut from one side only, which renders glasscutters useless.

Frosted Glass is produced by the sandblasting or acid etching of clear sheet glass. It has the effect of rendering the glass translucent by scattering of light during transmission, thus blurring images while still transmitting light and protecting your privacy.
Options
Full screen.
Aluminum mesh screen.
Triple panes glass
Nailing fin for new construction
The pre-insulated Super Seat, providing an outstanding insulating value.
Hardware and Screens
Color matches hardware and screens.
PROJECT SHOWCASE
Chicago Windows & More
Come explore our work
portfolio and see the Newtec
difference for yourself.