Residential Vinyl Single Hung Window
Elegant, high-performance, the Series 600 Single Hung windows are packed with over 13 high-end features. We listened to what our customers have asked for in a quality replacement window and we have delivered. The ultimate in design and function, these beautiful windows will work well in residential replacement applications and high-end residential new construction, and grace your home with lasting, trouble-free elegance. The 600 Single Hung upholds our tradition of providing our customers the best possible window money can buy.
Features of the Residential Vinyl Single Hung Window
3-1/4" frame depth, rigid virgin vinyl are strong, durable and weather tight.
Fusion welded corners in frame and sash for superior strength and tightness.
Multi-chambered frame and sash profiles for better thermal performance and structural integrity.
Multiple weather stripping prevents drafts and infiltration of moisture and dust.
Tilt-in operating sash for easy cleaning and operation.
There is no upkeep required.
The latches are recessed into the sash profile for strength and a neat, flush appearance.
7/8" Intercept WarmEdge insulated glass units for superior energy savings.
Built-in integral interlock between sashes adds security and energy efficiency.
Fully-extruded lift handles for durability and easy operation.
Stainless constant force balancing system for better performance.
Half screen with fiberglass cloth included.
Triple panes glass available.
Residential Vinyl Single Hung Window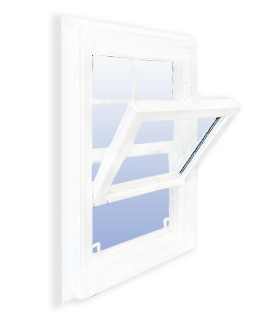 Structural Data & Efficiency Performance
STRUCTURAL TEST DATA:
| Rating: | PG-45 |
| --- | --- |
| Wind Pressure Load: | 45 PSF |
| Water Penetration Resistance: | 6.75 PSF |
| Air Infiltration at 25mph: | 0.14 CFM |
ENERGY RATING FACTORS:
| Glass: | LowE/Argon |
| --- | --- |
| Thermal Transmittance (UFactor): | 0.29 |
| Solar Heat Gain (SHGC): | 0.30 |
| Visible Light Transmittance (VT): | 0.55 |
| Condensation Resistance Factor: | 56.0 |
Architectural Shapes

Grid Options

Interior Colors
Exterior Colors
Custom Colors Available
Simulated Divided Lite (SDL)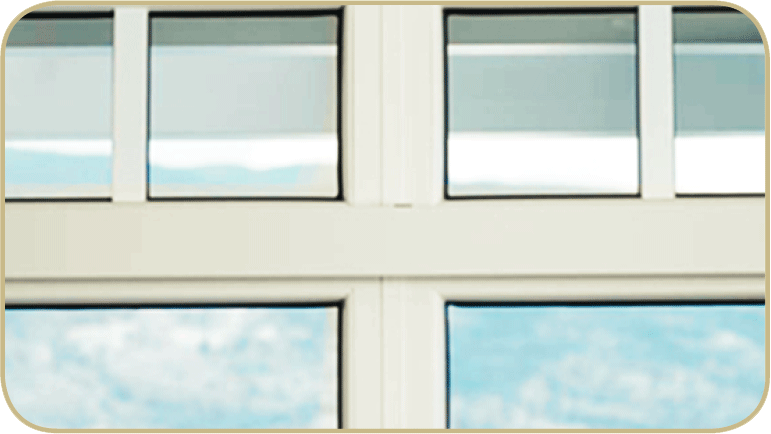 Simulated-Divided-Lites Provide you with an authentic divided glass look. The Grids are permanently adhered to the outside surfaces of the glass. Historical preservation and shadowing make this a desirable feature among restoration remodelers.
Glass Packages
| Packages | Thermal Performance | Cost | Cardinal Glass | Glass Unit | Gas Fill | Spacer System |
| --- | --- | --- | --- | --- | --- | --- |
| | | | Double Pane LowE-272 | 7/8″ double pane | Argon | Intercept Warm Edge |
| | | | Double Pane LowE-366 | 7/8″ double pane | Argon | Intercept Warm Edge |
| | | | Triple Pane LowE-272 | 7/8″ double pane | Argon | Intercept Warm Edge |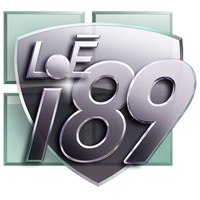 LoĒ-i89 is sputtered onto the indoor lite, the #4 surface, thus reflecting escaping heat back into the room and lowering U-factors. Coupled with our LoĒ² or LoĒ³ glass and argon fill, this double-pane unit delivers performance much better than clear triple-pane – a center of glass U-factor of just 0.20 compared to 0.37 with clear triple-pane.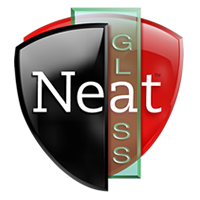 Cardinal introduces Neat
®
naturally clean glass. It harnesses the sun's UV rays to loosen dirt so water can rinse it away, leaving windows virtually spotless. Your windows will stay cleaner longer and will clean easier.

If laminated glass is broken, the vinyl interlayer remains in the frame, with glass fragments adhering to the interlayer. This provides a strong barrier against forced entry and cannot be cut from one side only, which renders glasscutters useless.

Frosted Glass is produced by the sandblasting or acid etching of clear sheet glass. It has the effect of rendering the glass translucent by scattering of light during transmission, thus blurring images while still transmitting light and protecting your privacy.
Options
Aluminum mesh screen.
Window connector (H mullion) to combine with other 600 product family (including picture, single or double hung, circle tops, transom and sliders).
Double locks
Cottage style (bottom sash larger than top sash)
Oriel style (top sash larger than bottom sash)
Nailing fin for new construction
Triple pane glass.
Hardware and Screens
Lock: Cam lock and keeper
Balancing system: Stainless constant force balances
Screen: Fiberglass mesh (Standard),
Aluminum mesh (Optional)
Screen frame: Aluminum roll form
PROJECT SHOWCASE
Chicago Windows & More
Come explore our work
portfolio and see the Newtec
difference for yourself.